Landscapers Southern Suburbs Residents Use For Landscaping Adelaide Southern Suburbs Gardens.
When looking at landscaping across Adelaide's southern suburbs, even on a tight budget, the landscapers Adelaide southern suburbs residents have trusted for over 30 years come from Visual Landscape Gardening.
Since 1989, the team of licensed landscapers have specialised in low maintenance garden landscaping, tailored to peoples individual needs.
Landscape design can encompass many elements. With over 30 years experience Alby Rogers is well placed to discuss the residential landscaping needs of home owners living throughout the southern suburbs of Adelaide, wanting to landscape their garden areas incorporating paving, fencing, artificial grass or instant lawn, retaining walls, irrigation systems and verandas.
No landscaping project is too large or complex for our team of landscapers to handle, or too small, with the same level of pride, passion and quality of landscape design residents living in Adelaide's southern suburbs deserve, regardless of the project's size.
Paving Adelaide Southern Suburbs Outdoor Garden Areas
Visual Landscape Gardening have an excellent reputation for paving Adelaide southern suburbs driveways, paths, verandah areas and around pools, using only experienced licensed pavers. Improve the look of your driveway, plus the value of your home by having driveway pavers laid instead of concrete.
Concrete paths that were once common around Adelaide southern suburbs homes are being replaced with pavers in a colour scheme that complements the garden's theme. Paving around swimming pools Adelaide southern suburbs residents have in their back garden with large format non slip pavers is also becoming popular, replacing tired looking and high maintenance lawn.
Under veranda's Adelaide southern suburbs home owners are using verandah pavers instead of timber decking, giving a low maintenance alternative.
Take a look at the many paving pattern designs to choose from. Your choice will depend on the type of traffic the pavers will encounter and the look you're wanting to achieve.
Paving
When paving on sloping ground and around pools across the southern suburbs of Adelaide with highly reactive clay, base preparation is extremely important. Ground movement can be significant from Winter to Summer, so laying pavers on a compacted base of Quarry Rubble is required.
Fencing Adelaide Southern Suburbs Homes & Gardens
A popular way of fencing Adelaide southern suburbs front boundaries is with aluminium tubular fencing panels. There are many patterns and colours of aluminium fencing panels to choose from in the range, or Visual Landscape Gardening can customise fencing panels to suit your requirements.
For fencing solutions between neighbours, by far the most popular fences Adelaide southern suburbs home owners choose are Good Neighbour Fences.
When looking at fencing around a pool Adelaide southern suburbs home owners are choosing glass pool fences, particularly with in-ground tiled swimming pools.
The choice of glass pool fencing Adelaide southern suburbs residents can select from includes frameless and semi frameless at a cheaper price.
Fencing
Aluminium tubular fencing is just one of the many fencing types offered by Visual Landscape Gardening. Great for colour matching to the surrounding colour scheme, they're often used on top of retaining walls for a secure, practical fencing solution.
Laying Synthetic Grass To Adelaide Southern Suburbs Gardens
The range of artificial grass Adelaide southern suburbs residents can have laid these days covers just about every application required with a choice of blade height, thickness and colour.
Synthetic or 'fake' grass as it's also known as, is used extensively in low maintenance gardens. There's no watering, mowing or fertilising required, and is a long term solution.
Sir Walter Buffalo is the preferred choice of instant roll out lawn Adelaide southern suburbs home owners select to have laid in high traffic areas. If you're after a roll out instant lawn for very shady areas that's low maintenance and drought tolerant, Visual Landscape Gardening recommend King's Pride Buffalo Grass.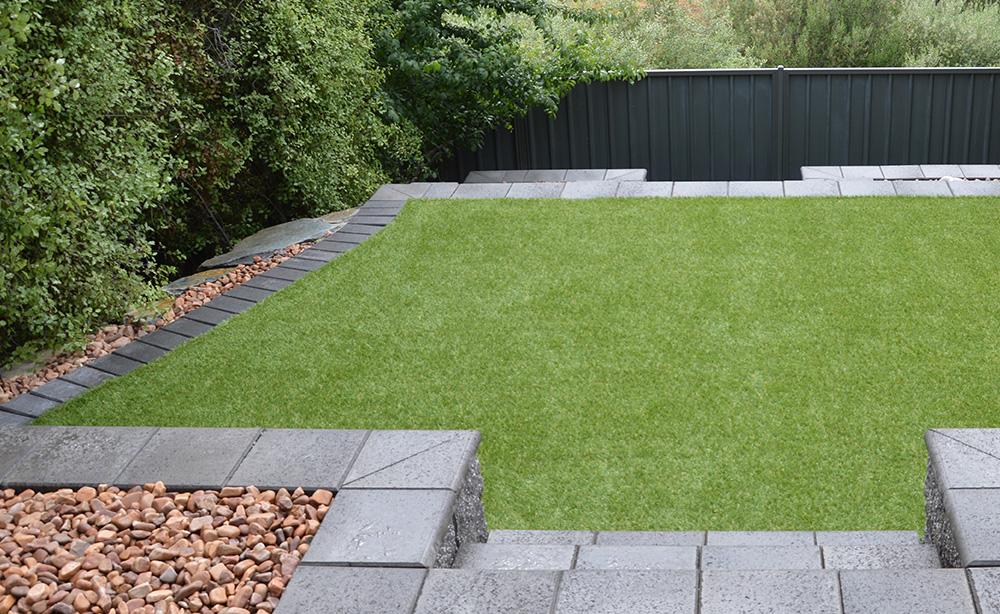 Low Maintenance Grass
This southern suburb home incorporated synthetic grass around the pool in their background to eliminate maintenance and to have the area look great all year round. Note the retaining to create a flat, level surface
Building Retaining Walls For Adelaide Southern Suburbs
Concrete block retaining walls Adelaide southern suburbs residents have built is the most popular type of retaining solution chosen for garden retaining walls under two metres.
For larger retaining walls Adelaide southern suburbs home owners choose moss rocks, one of the cheapest retaining wall alternatives. Concrete sleeper retaining walls Adelaide southern suburbs residents choose often, when looking at retaining between neighbouring properties and is popular with a Good Neighbour fence erected on top.
Retaining Sloping Blocks
To create level areas when landscaping southern suburbs of Adelaide, prone to extreme sloping blocks, clients have retaining walls constructed. Apart from retaining earth, moss rocks make for great garden beds. Note the 3 distinct levels.
Installing Irrigation Systems For Adelaide Southern Suburbs
If low maintenance garden design is for you, installing garden irrigation systems is a must.
Automatic irrigation systems Adelaide southern suburbs home owners have installed saves time and money watering, delivering water to the root system effectively, where it's needed most and at the right time of the day. Landscapers from 'Visual Landscape Gardening' can advise you how many zones will be required for your irrigation needs based on the garden design, slope, area and plants or lawn to be watered.
Installing drip irrigation can reduce water usage by 60% which is good news considering the spiralling cost of water.
Irrigation
Pop up sprinklers are ideal for covering very large lawns. They can be fully automated, using powered controllers set to come on at pre-set times of the day.
Tips on Landscaping Adelaide Southern Suburbs
Landscaping Adelaide gardens requires careful preparation of the base before laying pavers or building a retaining wall. Below the top soil is often rock and clay, which in Adelaide southern suburbs can be highly 'reactive', moving as it swells with water during Winter or shrinks when it dries out during Summer. If the base is not properly prepared and compacted with quarry rubble (100mm-200mm), there is a significant chance the pavers or retaining wall will move or crack, resulting in costly repairs.
Base preparation is where quotes often differ in price. Some landscaping companies will lay artificial grass and pavers on sand or gravel, which will not be stable enough to hold after a heavy rain.
All work completed by Adelaide landscaping company 'Visual Landscape Gardening' to Adelaide southern suburbs gardens is guaranteed for a minimum of 5 years, and is carried out by our experienced licensed landscapers Adelaide home owners and businesses have trusted to do the job right the first time since 1989, in fact Visual Landscape Gardening are often called in to fix issues caused by un licensed tradesmen taking shortcuts.
Recent Projects Landscapers From Visual Landscape Gardening Have Completed
Alby
Make a natural impression with Flagstone concrete blocks. Made to emulate stack stone walls, but at a fraction of the cost, these blocks made from concrete can be … Read More